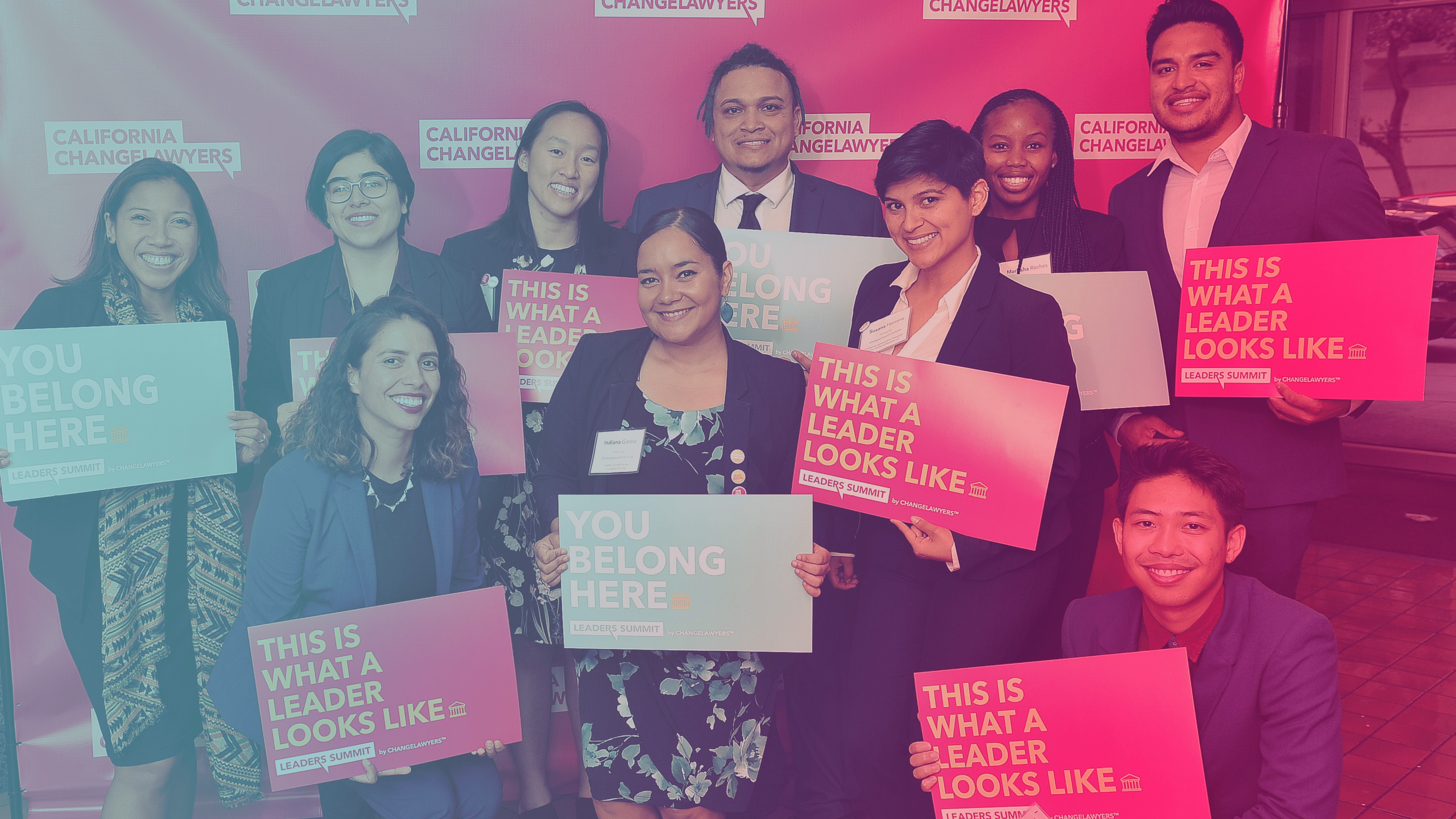 You Belong Here
ChangeLawyers℠ is a public foundation that believes that all people deserve leaders who look like them, talk like them, and share their lived experiences.
IMMIGRATION LEGAL FELLOWSHIP ANNOUNCEMENT
The Immigration Legal Fellowship is the first-ever state funded legal fellowship program. The Fellowship aims to develop the organizational capacity of legal service providers and increase the number of qualified immigration attorneys able to provide legal services in underserved areas of the state such as the Central Coast and Central Valley.
The position:
California ChangeLawyers has partnered with the California Department of Social Services, immigrant rights organizations, including Immigrant Legal Resource Center (ILRC), to provide two-year fellowships to 10 attorneys or law graduates committed to providing immigration legal services in either California's Central Coast or Central Valley. There will be a strong preference for candidates pursuing legal careers in those regions beyond the term of the Fellowship.
Immigration Legal Fellows will receive intensive legal training on immigration law, particularly removal defense representation, and immigrant rights as well as hands-on experience representing clients before federal agencies and the immigration court.
Fellows have been placed in host organizations in either the Central Coast or Central Valley region. With each host organization acting as the Employer of the Fellows for the duration of the Fellowship. Fellows may also be assigned a Mentor Attorney who will provide guidance, technical assistance, and mentorship through the two-year fellowship. Fellows will be treated as a cohort and have access to leadership development and networking opportunities provided by California ChangeLawyers as well as ongoing legal training with the ILRC.
We are currently seeking to add one more fellow to complete our 10-person inaugural fellowship cohort. This fellow will be placed in the Fresno, CA office of our host organization partner, Community Justice Alliance.
Fellowship Duties will include:
*Please note these activities will likely be virtual for the first portion of the fellowship and shift to in-person meetings and court appearances as permitted by health and safety standards.
· Participate in all orientation and training sessions provided to the cohort.
· Directly shadow experienced attorneys working on immigration cases and serve as Attorney of the Day at the San Francisco Immigration Court, participate in Know Your Rights orientation sessions at immigration detention centers, and provide pro se assistance to detained individuals.
· With the assistance of Mentor Attorneys during initial training, work on a variety of immigration cases, including preparing applications, declarations, and supporting evidence as well as providing co-representation in immigration interviews, bond hearings, and removal hearings.
· Provide representation for individuals in a variety of immigration matters, including: preparing applications, declarations, and supporting evidence as well as providing representation in immigration interviews, bond hearings, and removal hearings under the guidance of the Mentor Attorney.
· Participate in on-going legal training and capacity building opportunities as well as regular case rounds sessions with the entire Fellowship cohort.
· Throughout Fellowship, Fellows will actively participate in ChangeLawyers' leadership development activities including annual Fellows Convening and monthly webinars.
Qualifications:
- Law school graduate including those who recently took the October 2020 bar exam.
- California or other state bar license preferred but not required.
- Record of experience or demonstrated commitment to serving immigrant communities.
- Prior experience working in an immigration legal service organization preferred but not required.
- Strong ties to Central Valley (preferably Fresno area), with a preference for those pursuing long-term careers in the region.
- Willing to live and work in the Central Valley.
- Willingness and flexibility to be as responsive to community needs as needed.
- Able to travel frequently to the Bay Area and other locations for training and for legal representation.
- Must be fluent in Spanish.
- Strong writing skills and attention-to-detail.
- Diverse candidates from groups historically underrepresented in the legal profession are strongly encouraged to apply.
Position Details, Salary & Benefits:
This is a two-year fellowship that will start towards the end of January 2021. Fellowship salary range is $65,000 p/year for recent law graduates and $70,000 p/year for licensed attorneys. Medical benefits are included.
Do no contact the host organization with any questions. All questions and concerns can be addressed to Jasjit Singh, Director of Programs at California ChangeLawyers: jsingh@changelawyers.org
To apply, please create a Submittable account below. If you are already a submittable user, please sign in below. In addition to the application itself, you will also be asked to upload an updated resume, and contact information for two references.
Applicants are encouraged to apply as early as possible. Applications will be considered on a rolling basis, and this position will tentatively remain open until filled.
Are you a diverse* law student committed to a career in public interest and social justice. Will you be sitting for the upcoming Summer 2021 California Bar Exam? Do you envision working as an attorney in California, with a goal of creating a more just and representative justice system?

If so, then we want to support you- the brightest ChangeLawyers of tomorrow, by eliminating the roadblocks that exist between you and success- one of them being the costs related to California Bar Exam related costs.
We believe that a state as diverse as California needs a justice system led by advocates of all backgrounds. That's why we invest in bright, diverse scholars, every day, to ensure that they have the opportunity to become tomorrow's legal changemakers.

If selected, you will receive a a $5,000 cash award scholarship.

This application will close on February 16th, 2021 at 5:00 PM (PST.) Applications must be fully submitted by this deadline. There will be no exceptions or extensions provided.

Scholarship recipients must attend an all-day event in April of 2021. Due to the pandemic, this event will likely be online. Scholarship recipients must also attend, at minimum, one- co-sponsor event.

*Diversity includes a broad array of backgrounds and life experiences, including students from groups or with skills or attributes that are underrepresented in the legal profession, and specifically including students from socially and economically disadvantaged backgrounds, particularly those that have overcome adversity.
Criteria:
1. Candidate must be:
a. Recently graduated (2020 or 2021); and
b. sitting for the California Bar Exam in the Summer of 2021.
2. Demonstrate and document commitment to social justice and public service and intent to pursue legal career in California after law school.
3. Demonstrate financial need.
4. Maintain at least a 2.2 GPA or equivalent on a 4.0 scale (or provide an explanation of extenuating circumstances if GPA is lower than 2.2).
5. Candidate must provide documentation of:
a. Candidate's actual or anticipated graduation date.
b. Good ethical standing of Candidate while attending law school.
c. Candidate's financial need.
6. Submit one signed letter of recommendation supporting Candidate's commitment to public interest/social justice, or related area of interest.
7. ChangeLawyer alums (1L scholars or fellows) are eligible and encouraged to apply for the 3L Diversity Scholarship;
Conditions:
1. Important: California ChangeLawyers reserves the right to use information from winner's applications as part of its publicity of the 3L Diversity Scholarship and for general marketing efforts. Please note this as you write your essay and provide other information.
2. 3L Diversity Scholarship Recipients must:
● Demonstrate commitment to public service and social justice.
● Be willing to take a leadership role in fostering diversity among the next generation of law students through discrete volunteer engagements with the ChangeLawyers.
● Report back to the ChangeLawyers on the progress of both of these in 2021 and beyond.
● Report bar results to ChangeLawyers.
● Attend ChangeLawyers scholarship event and co-sponsored event.